How to create the best summer haircare routine in 5 simple steps...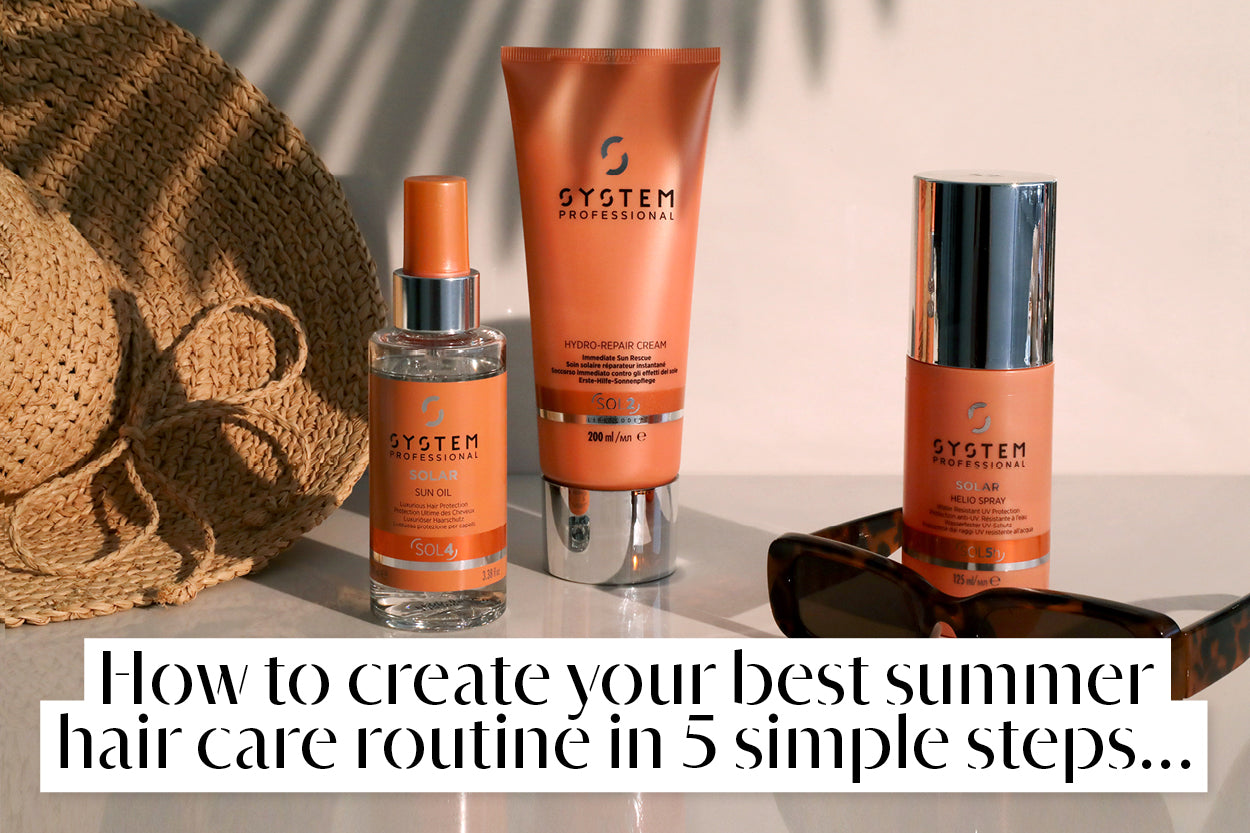 It's not always easy finding a new hair care routine that gives you the results you need. Using the wrong shampoo can leave the hair feeling dry or greasy, whilst using the wrong styling product, (or not using any styling products at all) will prevent you from recreating a
salon-worthy finish.
How to look after your hair in 5 simple steps
Below is our easy step by step guide for you to follow, so that you can achieve gorgeous looking hair beyond the salon chair. Whilst step 1 may not apply to everyone, our product expert and 
General Manager, Tash Grossman,

 
lists the best-selling products and some of her personal 
hair heroes that are a must-have purchase!
Step 1.
Pre treatment
The foundation to beautiful healthy hair is a healthy scalp. Applying a pre-treatment before shampooing once a week such as Olaplex No.0 Intensive Bond Building Hair treatment 155ml or Olaplex No.3 Hair Perfector 100ml (apply No.3 over No.0 for even greater results) will instantly strengthen and repair dry, damaged or coloured hair after just one use.
Olaplex 
No.0 Intensive Bond Building Hair Treatment
155ml
Olaplex 
No.3 Hair Perfector
100ml
Step 2.
Shampoo
Using a great shampoo really improves the manageability of your hair once its dried. If you wash your hair 3x per week or less, always shampoo your hair twice. The first shampoo removes dirt, grease and product build up, whilst the second shampoo cleanses the hair. If you're planning on being in the sun, sea and swimming pool this summer, the 
System Professional Solar Hair & Body Shampoo 250ml
 is a must-have. Alternatively, if you're looking to keep your blonde locks a creamy shade of vanilla, then the 
System Professional Silver Save Shampoo 250ml
 or the 
Olaplex No.4P Blonde Enhancer Toning Shampoo 250ml
 needs to be added to your basket 
immediately!
System Professional 
Solar Hair & Body Shampoo
250ml
System Professional 
Silver Save Shampoo
250ml
Olaplex
No.4P Blonde Enhancer Toning Shampoo
250ml
If you're someone that opts for premium hair and beauty products, then it doesn't get more luxurious than the sulphate-free 
Alterna Caviar Replenishing Moisture Shampoo 250ml
, which is ideal for dry and damaged hair, and for those with Keratin or Brazilian smoothing treatments. Finally for finer hair, where you're looking to add more volume and shine, the 
System Professional Volumise Shampoo 250ml
 or the 
Nioxin Cleanser 
is just the solution you need for thicker, fuller looking hair, without weighing the hair down.
Alterna
Caviar Replenishing Moisture Shampoo
250ml
System Professional
Volumise Shampoo
250ml
Nioxin
System 1 Cleanser
300ml
Step 3. Condition
A good conditioner is a hair care essential and its job is to replenish any moisture lost during the shampooing phase. For finer locks, apply the 
conditioner into the palm of your hands first to towel dried hair, and apply to the mid-lengths and ends. If your hair is thicker or more damaged, then apply the excess conditioner to the root and comb through.
 

Sebastian Dark Oil Lightweight Conditioner 250ml
 smells like heaven and offers moisture without it feeling too heavy. Alternatively, match your conditioner to your shampoo, and use the
 

Olaplex No.5 Bond Maintenance Conditioner 250ml
 or 
System Professional Repair Conditioner
 that works in just 30 seconds.
Sebastian
Dark Oil Lightweight Conditioner
250ml
Olaplex
No.5 Bond Maintenance Conditioner
250ml
System Professional
Repair Conditioner
200ml
Step 4. Hair mask
The best hair care routine always includes a weekly hair mask, even if you have the finest of hair. 'The right hair mask can either add moisture and shine, or protein and strength for finer locks depending on what your hair needs' says Tash.
For thick, dry and damaged hair, 
Olaplex No.8 Bond Intense Moisture Mask 100ml
 is our holy-grail, and for finer tresses, our best-selling masks include 
Nioxin 3D Intensive Deep Protect Density Mask 150ml
 and 
K18 Leave-In Molecular Hair Mask 50ml
, which repairs the hair in just 4 MINUTES!
Olaplex
No.8 Bond Intense Moisture Mask
100ml
Nioxin 
Intensive Deep Protect Density Mask
150ml
K18
Leave-in Molecular Hair Mask
50ml
Step 5. Style
Rule no.1: a heat protector spray like the 
Sebastian Trilliant 3-in-1 Heat Protector & Shine Spray 150ml
 is a non-negotiable if you blow dry, straighten or curl your hair, whilst the 
System Professional Luxe Oil 100ml

 
tames frizz and adds shine, and can be applied before and after styling. If you want that lightweight va-va-voom volume then apply the 
Wella Eimi Perfect Setting Spray 150ml
 to damp hair from root to tip. Ultimately, our hairdressing experts wouldn't dare not use styling products to help create gorgeous looking hair, so if it's a must for us, then it's a no-brainer for you!
Sebastian
Trilliant 3-in-1 Heat Protector Spray
150ml
System Professional
Luxe Oil
100ml
Wella Eimi
Perfect Setting Spray
150ml
Enjoy up to 25% off
Shop now
hobhomecare.com